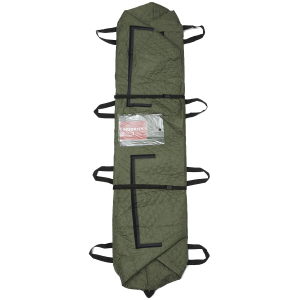 Specially designed emergency rescue casualty bag that offers excellent insulation properties to protect against wind, rain, and the cold. It has the strength to be lifted and move casualties in a hostile environment. Manufactured incorporating THERMARMOUR Xtreme fabric. The outer of the fabric repels and sheds water to expedite the drying process whilst maintaining insulation properties even when wet. It has strategically placed openings that allow easy access, for treatment of the patient, without compromising the integrity of the fabric. Tested in the Arctic regions of Finland and the Antarctic continent.
SPECIFICATIONS:
Water and wind proof as well as fire resistant
Padded base layer for added protection and patient comfort
Triage card pockets to identify immediate patient requirements
Built-in full length incontinence pad
Thermal cap provided to maintain heat in head
Lightweight and compact
Easy to store
Multilayer structure
Eight lifting straps, in-house tested to 260kg
Strategically positioned velcro openings to allow easy access to treat the wounded
Harness attached with carabiner for dragging
Bag size: 230 cm x 56 cm
Packed size: approx. 51 cm x 53 cm x 8 cm
Weight: 3.6kg
Patent pending technology
IDEAL FOR:
Military
Search & Rescue teams
First responders
Single price: £400 +vat
Bulk discounts available online.