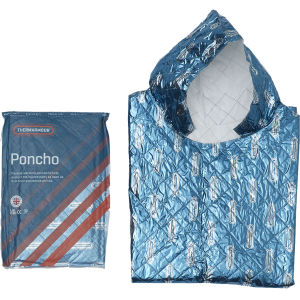 Developed for the emergency services, first responders and the military. The THERMARMOUR Poncho helps to protect the patient as soon as assistance arrives. The addition of a hood also helps to avoid heat loss from the head. Hypothermia is a major contributor to morbidity and mortality within trauma patients. The THERMARMOUR material will help by alleviating this heat loss and allow the patient to begin to return to a normothermic state without introducing an active heat source.
SPECIFICATIONS:
One size fits most
No heat source required
Non-conductive and radiolucent
Shower-proof with high visibility levels
Compressed packaging for ease of storage
Can be cut to size
Can be pre-warmed
Patent pending technology
IDEAL FOR:
Emergency services
Search & Rescue teams
First responders
Military personnel
Outdoor enthusiasts
Private medical providers
Recovery vehicles and breakdowns
Single price: £39.95 +vat
Bulk discounts available online.